AMD launches Zen 2-based Ryzen and Athlon 7020C series for Chromebooks
6 min read
Last year, AMD introduced their entry-level 'Mendicino' mobile parts to the market, which combine their 2019 Zen 2 cores and their RDNA 2.0 integrated graphics to create an affordable selection of configurations for mainstream mobile devices. While much of the discussion over the past few months has been about their Ryzen 7040 mobile parts, AMD has released four new SKUs specifically designed for the Chromebook space, the Ryzen and Athlon 7020C series.
Some of the highlights of AMD's Ryzen/Athlon 7020C series processors for Chromebooks include three different core and thread configurations ranging from entry-level 2C/2T to 4C/8T, all with AMD's RDNA 2-based mobile Radeon 610M graphs. Designed for a wide variety of tasks and users, including but not limited to consumer, education and business, AMD's Ryzen 7020C series looks to offer similar specs and features to their regular 7020 series mobile parts, but expands things to the wider Chromebook ecosystem and ChromeOS too.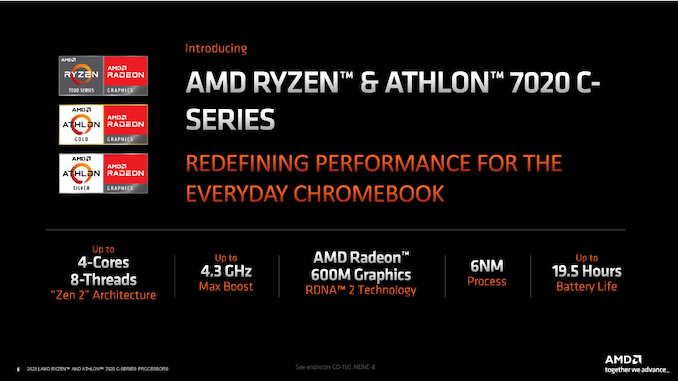 Quickly summarizing last year's AMD Mendocino mobile parts, AMD released four SKUs with Zen 2 cores and RDNA 2 integrated graphics. Like the AMD Mendocino series of Chromebooks that AMD announced, their generic Ryzen/Athlon 7020 mobile parts range from two base 2C/2T and 2C/4T parts to two more powerful 4C/8T parts, all with AMD's Radeon 610M 'Mendocino' integrated graphics.
The highest processor in the Ryzen 7020 series, the Ryzen 5 7520U, has 4C/8T, with a base frequency of 2.8 GHz and a 1T boost frequency up to 4.3 GHz. Similar in spec, but slightly slower, the Ryzen 3 7320U has the same 4C/8T, but with 2.4GHz base and 4.1GHz 1T boost core clocks, while both share the same 4MB L3 cache.
The other two chips, the Althon Gold 7220U and the Athlon Silver 7120U were again similar, but the Athlon Gold 7220U has simultaneous multithreading (SMT) enabled, giving it 2C/4T instead of 2C/2T. All of AMD's Ryzen/Athlon 7020 series processors also have a TDP of 15W, making them better suited for less intensive workloads and lower power solutions where things like extending battery life on the go are more important. important than raw computing power.
AMD Ryzen/Athlon 7020C Series: Mendocino for Chromebook
Interestingly, the Ryzen/Athlon 7020C series is also based on AMD's Mendocino graphics and TSMC's 6nm node, and the specs between the 7020C and 7020 series are almost identical. The only real difference between the two Mendocino chipsets is that the 7020C SKUs are designed specifically for ChromeOS. Meanwhile, the regular 7020 series caters to Microsoft Windows-based mobile devices such as notebook computers.
AMD Ryzen 7020 C-Series




SKU

Cores/Threads

CPU frequency
(base)

CPU frequency
(1T gain)

Cache memory

iGPU

TDP




Ryzen 5 7520C

4C / 8T

2.8GHz

4.3 GHz

2MB L2 + 4MB L3

Radeon 610M

15W




Ryzen 3 7320C

4C / 8T

2.4 GHz

4.1 GHz

2MB L2 + 4MB L3

Radeon 610M

15W




Athlon Gold 7220C

2C / 4T

2.4GHz

3.7 GHz

1MB L2 + 4MB L3

Radeon 610M

15W




Athlon Silver 7120C

2C / 2T

2.4 GHz

3.5GHz

1MB L2 + 2MB L3

Radeon 610M

15W









Starting at the top of the stack, the AMD Ryzen 5 7520C is a 4C/8T part with a 2.8GHz base and 4.3GHz 1T boost clock speed. The Ryzen 3 7320C is very similar to the Ryzen 5 7520C, but slightly slower, with a base core frequency of 2.4 GHz (400 MHz less) and a 1T boost frequency of 4.1 GHz (200 MHz less ). Each core has a dedicated 512 KB L1 cache so the 4C/8T parts have a shared L2 cache of 2 MB and a shared 4 MB pool of L3 cache.
Moving down the stack, we have the Athlon Gold 7220C, a 2C/4T part with a total of 1MB of L2 cache, and this particular SKU features the same 4MB L3 cache pool. It has a 2.4 GHz base frequency, with a 1T boost frequency up to 3.7 GHz. Last but not least, the base Athlon Silver 7120C doesn't take advantage of SMT, so it's essentially a 2C/2T chip with the same 2.4GHz base frequency as the Athlon Gold variant, but with a slightly slower 1T boost frequency of 3 .5 GHz (200 MHz less).
While TDP is an enigmatic term, it's always a good indication of where the power is likely to be from a manufacturer's perspective. All four of AMD's Ryzen/Athlon 7020C series CPUs for ChromeOS use their Radeon 610M integrated graphics based on RDNA 2.0, which has 2 x CUs with a total of 128 shader cores that are clocked at 1.9GHz. Although the Radeon 610M is not primarily intended for gaming due to the small number of shader cores. For reference, the Ryzen 7020/7020C series features the same integrated graphics found in the higher-end Zen 4-based Ryzen 9 7945HX 16C/32T mobile processor, which requires discrete graphics to unleash the additional bandwidth benefits of PCIe 5.0 and PCIe 4.0 graphics chips.
In the case of the 7020C series, all four SKUs have a TDP of 15W set by AMD, meaning these chips are focused on delivering greater efficiency, which is critical for things like extending battery life, which is vital for mobile phone .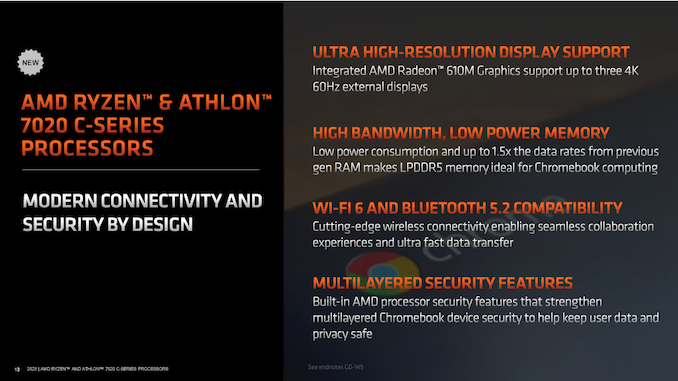 While both sets of Mendocino-based Ryzen and Athlon 7020/C series processors have the exact specifications, there is one key and critical difference. This comes through security features, and as you might expect, a device designed for Microsoft's Windows operating system has different requirements and needs than something like ChromeOS. We reached out to AMD to find out what the differences in integrated security are, and AMD said the following:
"These (7020C series) are the ChromeOS versions of the Mendocino processors released for Windows last year. They share the same specifications. However, the 7020C series is optimized for ChromeOS, including various fusion features specifically for ChromeOS security features. Therefore, the 7020U series cannot be used for Chromebooks".
Other features of AMD's Mendocino-based 7020C series processors include support for up to three external 4K60 displays, with support for Wi-Fi 6 and Bluetooth 5.2 devices; this is something Chromebook vendors will implement via controllers. Like the Ryzen/Athlon 7020 series, the 7020C series also supports lower-powered LPDDR5 memory, which in terms of JEDEC is LPDDR5-5500 in dual-channel mode for the Mendocino-based chips. We asked AMD for further clarification on what this merger of security features entails, but AMD declined to comment or share additional details.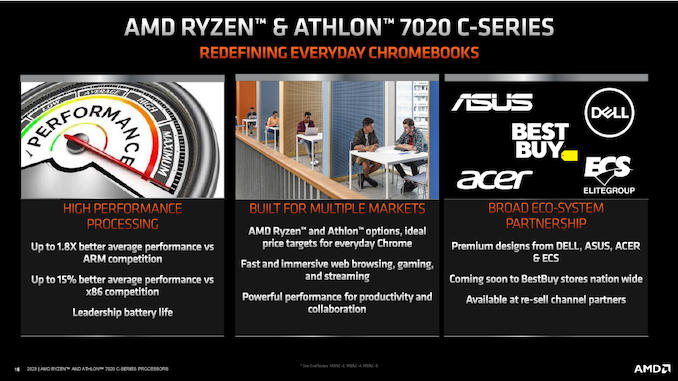 As is typical with a new launch, AMD has provided some internal performance data, but we'd generally take it with a grain of salt without putting too much emphasis on it. Within AMD's slide deck, AMD to AMD performance comparisons compared the Ryzen 3 7320C to the Ryzen 3 3250C, which is actually two generations old; the previous generation designed for Chromebooks was the 5025C series. AMD also benchmarked performance against Arm-based MediaTek Kompanio chips and an Intel Core i3-N305 processor.
In terms of the broader claims made, AMD claims an average 1.8x performance increase over Arm's IP, with up to 15% "better" performance on average over the x86 CISC competition. AMD also claims leadership in battery life. However, since it's largely up to notebook and Chromebook vendors to optimize through their batteries and power-saving mechanisms, it's a much harder metric to gauge from a platform perspective.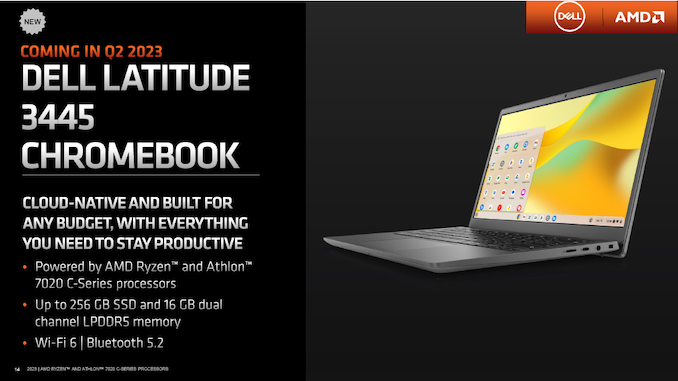 In addition to announcing the Ryzen and Athon 7020C series of Chromebooks, AMD also announced two new Chromebooks with its partners based on the 7020C series. One of them is the Dell Lattitude 3445 Chromebook, which is powered by AMD 7020C series processors, with support for up to 256 GB SSD, 16 GB (2 x 8 GB) LPDDR5 memory and with integrated support for Wi-Fi 6 and BT 5.2 devices .
The second Chromebook to be announced is the ASUS Chromebook CM34 Flip (CM3401), which has a 14″ touchscreen display with a 16:10 aspect ratio with an optional one-touch fingerprint sensor and is powered by up to and including a Ryzen 5 7520C processor The ASUS CM34 Flip also has an integrated FHD webcam with privacy shutter and supports Wi-Fi 6 wireless connectivity and BT 5.2 devices.
Both the Dell Lattitude 3445 and ASUS CM34 Flip (CM3401) are expected to launch sometime in the second quarter of 2023, with other devices from AMD's partners expected to launch new Chromebooks with Ryzen/Athlon 7020C series processors around at the same time.
At the time of writing, neither AMD nor their Chromebook partners have provided any indication of pricing or other specifications or model configurations. As mentioned, AMD's Ryzen and Athlon 7020C series for Chromebooks are expected to launch and hit retail shelves sometime in the second quarter of 2023.