Anitian CEO attributes success to building a strong, loyal team and being 'a good human'
8 min read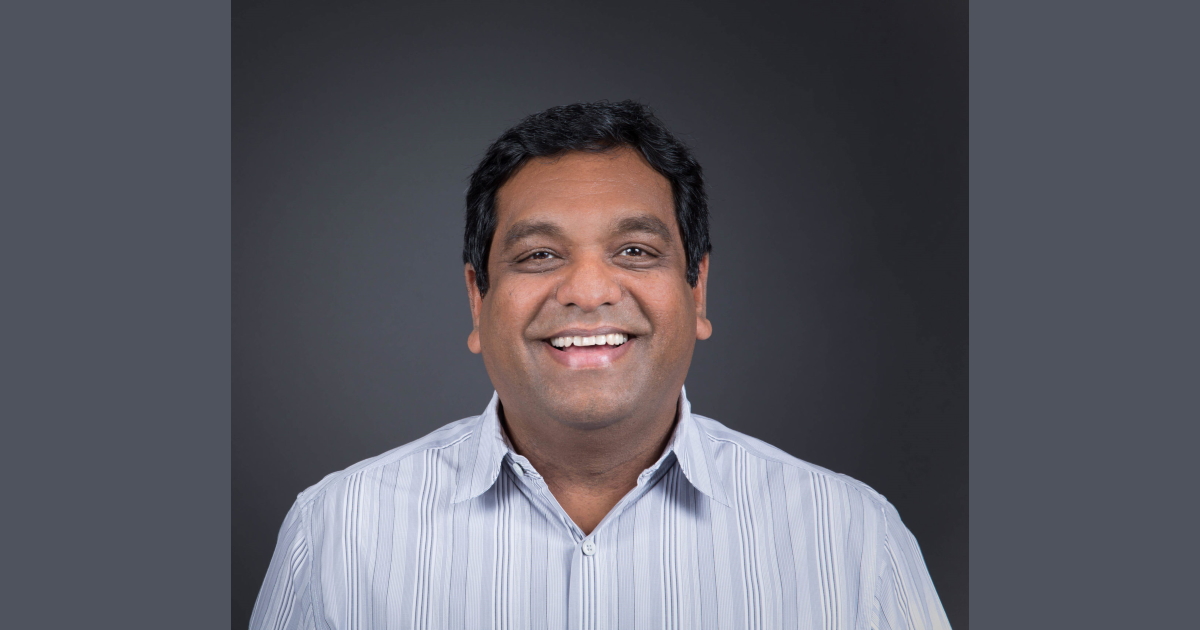 We recently spoke with the chief executives of companies that participated in the AWS Startup Showcase: The Next Big Things in AI, Security & Life Sciences to find out what drives them and learn about their visions for the future. This feature is part of theCUBE's ongoing CEO Startup Spotlight series.
In summer 1985, Rakesh Narasimhan (pictured) arrived in the United States from India with $ 20 dollars in his pocket. He wasn't heading for an MBA at Harvard or Stanford, as we often see tech CEOs, but to a small college in Albany, New York, where he had an academic scholarship to study computer information systems. His goal was to earn a bachelor's degree and hopefully continue to get his masters and doctorate before returning to India.
More than two decades later, Narasimhan is still in the US and currently the chief executive officer of cloud security company Anitian Inc., proving to many that the American Dream is still alive and well.
"The United States offered an unbelievable, incalculable level of freedom, opportunity and creativity that it was just hard to think about going anywhere else," Narasimhan told theCUBE in an exclusive interview. "I'm incredibly indebted to the country, that model, the ability to provide for an immigrant like me."
Narasimhan has a simple goal for his life: Be a good human. Following that mission statement has led him from a modest upbringing to become a sought-after executive known for his down-to-earth management style.
The more complex and messy the situation, the better
After climbing the corporate ladder with roles at Toys "R" Us Inc., Oracle Inc. and Microsoft, where he was general manager for Azure Cloud Services, Narasimhan moved into the startup world as CEO and president of a cloud-based collaboration service, InstallFree Inc. He successfully oversaw the acquisition of InstallFree by WatchDox Inc., spent a short time back in the corporate world at Citrix Systems Inc., then joined geospatial intelligence company Blacksky Technology Inc. as president, chief operating officer and chief product officer.
Blacksky is at the forefront of the commercialization of space imagery, and Narasimhan spent three years building the company's product line and customer and employee bases. Shaping the nascent space industry is a role many would envy, but Narasimhan describes himself as a "firefighter" in that he enjoys the challenge of solving problems more than the security of a well-paid position.
"My personality is such that I am attracted towards things that are messy, that are confusing, that are not great," he said. "I know I'm in the right place at the right time when things need a lot of improvement."
With Blacksky set on an upward trajectory, Narasimhan founded his own consulting company, AQYNT LLC, and became a strategic advisor for BitDam Ltd., a cyberthreat detection startup. The catalyst for his next step would be to bring his enterprise and cyber expertise to collaborate with Liron Barakan Israeli Defense Force cyber expert and co-founder of BitDam.
"She was having her first baby, and she was in the hospital on the day of her delivery talking to me and saying,' Hey, would you come and help us, '" Narasimhan said, recalling the conversation in which he agreed to guide Barak and her co-founders as they scaled BitDam – which was successfully acquired by Datto Holding Corp., a US-based company, in 2021.
Do what you say, and people will trust you
Growing up in a family that greatly respected women shaped Narasimhan's thinking and being, and he has mentored many male and female entrepreneurs and executives over the years. When he talks about the team he has built at Anitian, he mentions his chief financial officer, cloud security director, head of people and director of customer success – all of whom are women. He uses words such as "phenomenal," "born talent" and "trusted leader" to describe his team members, many of whom he recruited after working with them at previous companies.
"I'm fortunate that many people have followed me from company to company. Hopefully that speaks for the trust they want to have in other people they want to be with, " Narasimhan said.
Rather than being head of a large business, earning a big salary or receiving professional acclaim, Narasimhan measures career success by the degree to which he has eliminated a company's weaknesses while supporting and growing its strengths during his time as a leader.
The foundation to achieving this success is to have a loyal and skilled workforce, according to Narasimhan.
"I put people and teams together to have a clear mission and to have a clarity of purpose so that we accomplish our goals," he said.
Looking at his past, he sees a pattern of joining a struggling company and then creating a powerful leadership team that would raise the company to operate at its highest potential.
"I've always joined something that wasn't great, and so when I joined, I tried to put a great team of people together and go on a journey. And then when I leave it behind continues it continues on and in fact became even better, "he said.
People follow Narasimhan from company to company because they trust him.
"My values ​​are about being transparent, accountable and being true to your word… do what you say and say what you do," he stated.
This philosophy was instrumental in his hiring at Anitian. In the press release announcing that Narasimhan was joining Anitian, founder Andrew Plato said, "What really impressed me were his values ​​and strong work ethic."
Great leadership and a culture of agility are key to Anitian's growth
2020 was a milestone year for Anitian. The company provides automated security and compliance solutions, and the pandemic brought not only a growth in cloud adoption but a rise in cybercrime. Against this background of uncertainty, Anitian tripled its growth rate, expanded its product portfolio, and created strategic partnerships with Amazon Web Services Inc. and Microsoft Azure. Narasimhan joined during the chaos, putting him right in the place where he feels most at home.
Great leadership and company-wide agility are key attributes for a company to have in place during a period of hyper-growth, according to Narasimhan. He built his leadership team based on diversity and a common value set of "being transparent, having a high work ethic, being true to your word, and doing right by your customers. "
Agility is more than a software development term at Anitian. Efficiency, attention to detail and customer satisfaction take priority across the company, with Narasimhan encouraging employees to try new ideas, even if they may fail.
"I champion the desire in the company to make sure that you're constantly striving to try new ways of doing things, especially those that benefit customers," he said.
Being agile is also critical to meet the challenge of competing in the highly fragmented security solutions market.
"One of the key things our company does differently than anybody else is we're attacking a typical market of manual, complex, costly, time-consuming processes and basically replacing all of that with software, automation and agility, " Narasimhan explained.
Fear-driven purchases mean the security market will remain noisy and fragmented for the near future
The automated cloud security and compliance market is headed up and to the right, and that growth is set to continue, according to Narasimhan.
"As more people go centrally to access things and more people come into the system, security and compliance are a number one of importance," he said.
People and companies alike expect that their data is protected and accessible to the people they want to access it – and to no one else.
Yet, despite the rosy financial outlook, the market is going to be forced to change, according to Narasimhan. A problem he sees amongst Anitian's customers is product fatigue.
"Customers are ending up in a place where… they have to take all these safeguards, but it's so complex and everybody's trying to sell you something to give you this feeling of being secure," he said.
This noise and fatigue in the marketplace is nothing new, according to Narasimhan. After 25 years in the business, "the market is still as big, the number of companies has only grown, the number of solutions has only grown, and still the state of the art of security is not necessarily secure," he said. This is because people tend to make security decisions out of fear, so they buy something fast that will protect them from the immediate threat.
While for the near future the market will continue to be crowded with point solutions, Narasimhan's long-term outlook is for a market dominated by fewer holistic solutions.
"I think it will happen in the security business. It's happened in every other business: compute, storage, networking, cloud, mobile. I think that security has not gotten there yet, but I believe it's the direction it's going to go in "he said.
The evolution of email protection offers a good projection of how the security and compliance market as a whole will go, according to Narasimhan. Not so long ago, companies had to purchase a lot of separate solutions to add functionality and protection to their business email accounts. Today, this is all handled by the email provider with a few big players – notably Microsoft Outlook and Google Gmail – dominating.
"That whole market consolidated so that instead of individual things, a provider put all that together so that you, the user, are benefitting from all that innovation and you're willing to pay them a subscription to get all that value," he stated. .
Anitian's place in this marketplace is not to dominate, but to serve the customer in the best way possible, Narasimhan explained. Paraphrasing the BASF slogan popular in the early 2000s, he said, "Anitian doesn't make all the applications that you buy. We strive to ensure the applications that you do buy are secure and compliant. That's how we think about our purpose in life in the industry that is growing at crazy lengths. "
Despite the bad press, technology is changing the world for the better
Bad people are a major presence in the security and compliance industry, where the daily focus is on combating malicious activity planned by devious criminal minds. It seems like a stressful situation for someone who believes in doing good as strongly as Narasimhan does.
"People are stealing information, with ransomware making your information useless unless you pay them a bunch of money. It's not being great humans, is it? It is the antithesis of trying to be a good human, "he said.
But the industry complements his life mission to be a great human.
"While it is easy to conclude that technology is bad, I want you to imagine that technology has fundamentally changed each and every one of our lives for the better," he said.
This has become evident during the pandemic, not only from the research collaboration and use of artificial intelligence to create vaccines faster than ever before, but on a personal basis that enables any person to be able to conduct business online and communicate via video with loved ones across the world.
"There is a lot of negative, but that's not what you focus on," Narasimhan said. "You have to figure out what are the positive things that you can do in life so that people can have a better life. That's how you persist; that's how you win. And that's important. "
Photo: Rakesh Narasimhan
---
Show your support for our mission by joining our Cube Club and Cube Event Community of experts. Join the community that includes Amazon Web Services and Amazon.com CEO Andy Jassy, ​​Dell Technologies founder and CEO Michael Dell, Intel CEO Pat Gelsinger and many more luminaries and experts.