Following successful run with AWS, Sandy Carter charts course for women and Web 3.0 at Unstoppable Domains
4 min read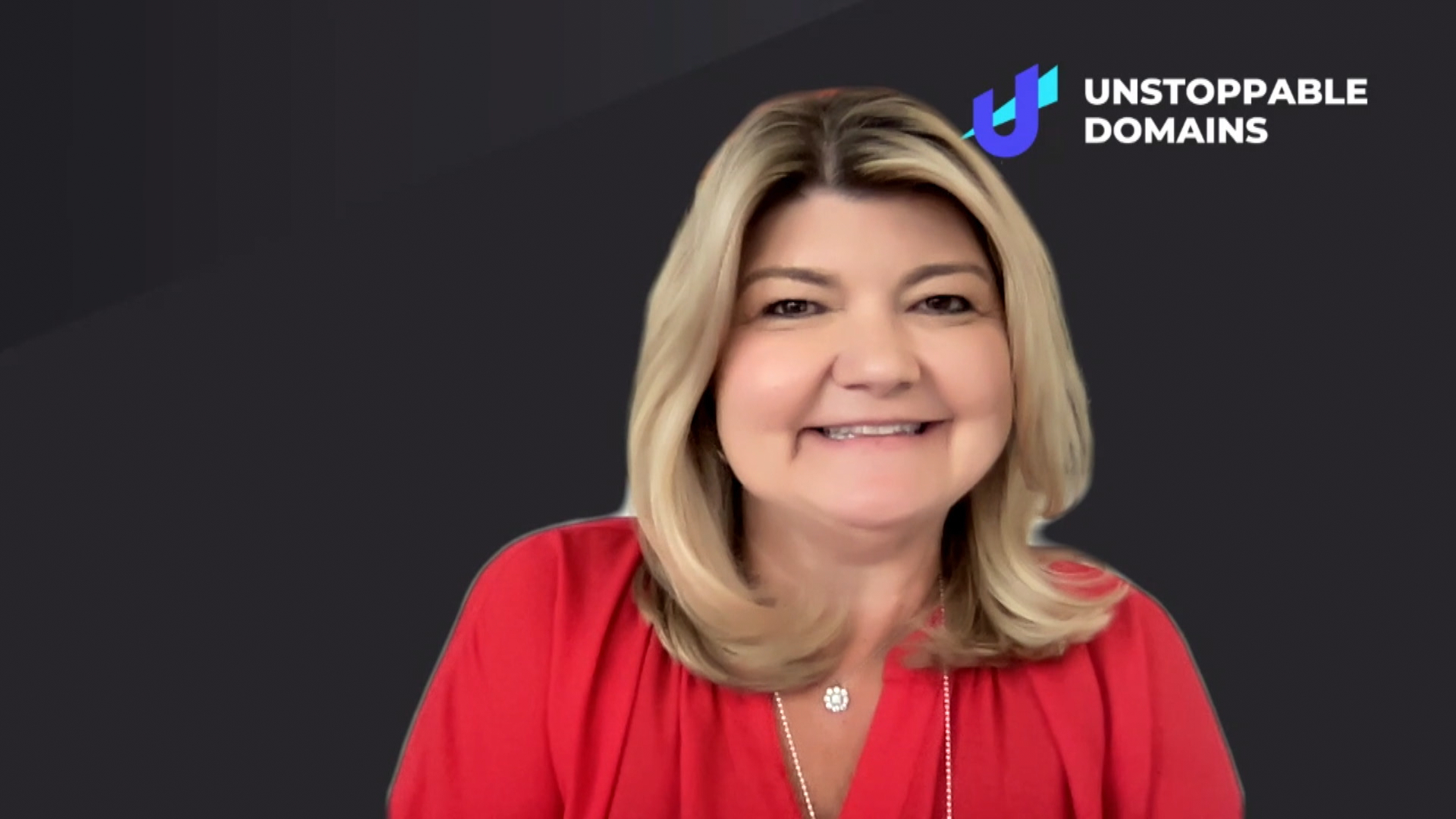 After helping grow the public sector partner business by 45% in the past year for Amazon Web Services Inc., Sandy Carter (pictured) is now seeking to expand horizons for women and diversity as part of Web 3.0
Carter announced her departure from AWS in November and became senior vice president and channel chief of Unstoppable Domains Inc., a platform for user-controlled digital identity using Web 3.0 technology, such as non-fungible tokens, or NFTs, and the blockchain.
Unstoppable Domains held a YouTube LIVE event today to announce Unstoppable Women of Web3, a diversity and education group focused on developing the next generation of Web 3.0 talent. The event coincides with International Women's Day. The announcement revealed opportunities to onboard onto the decentralized web by building a blockchain-based identity platform.
"This is a moment for Web 3.0 to be very inclusive," Carter said. "Web 3.0 introduces a real ownership model to the internet that combines economics, art, game theory and technology in an incredibly interesting way. We're going to be action-oriented. We don't want to just say we're going to help you get started or just say that Web 3.0 is accessible. We're going to launch education, networking and events. "
Discussing today's Women of Web3 launch, Carter spoke with John Furrier, host of theCUBE, SiliconANGLE's livestreaming studio, about concepts powering the next generation of web, mining the power of digital identity, new opportunities for companies, and additional events planned for the company's latest initiative. (* Disclosure below.)
Having an ownership stake
The premise of Web 3.0 embodies the next stage in the internet's ongoing evolution as the third generation of services for websites and applications.
"Web 1.0 was about discovery. We discovered a lot of information, "Carter said. "Web 2.0 was about reading the information, but also contributing. Web 3.0 is now all about membership; it's having an ownership stake in the power of what's coming. "
If Web 3.0 is about membership, Unstoppable's initiative is off to a solid beginning. Nearly 60 companies have signed on to Unstoppable Women of Web3, or WOW3, according to Carter, who noted that this was an early indication of growing interest in Web 3.0's potential.
"A lot of what I see from Web 2.0 folks is they don't understand it; they're not sure about it, "she said. "We're in the early days of Web 3.0. We're in that dial-up phase. People are looking for something they can hang their hat on. "
Flywheel of digital identity
Unstoppable Domains' names are minted as NFTs, which allow users to replace convoluted cryptocurrency addresses with a human-readable designation. In addition to simplifying crypto transfers, domains can also host decentralized websites. The goal is to provide a foundation for digital identity, using Web 3.0 technology and allowing users to carry a unique name across apps, games, wallets and the metaverse.
"The flywheel is around digital identity," Carter said. "It's why I came to Unstoppable. I believe that the data about you should be owned by you; identity now travels with you. "
Web 3.0's focus on digital identity offers a temptation to assume that the next generation of internet will be weighted towards the consumer. However, there is growing evidence that businesses are also beginning to apply NFTs and blockchain-driven applications to new enterprise applications.
Meta Platforms Inc., also known as Facebook, reportedly has plans to allow users to mint and sell digital assets. Video game giant GameStop Corp. recently announced its own NFT marketplace, and Salesforce.com Inc. has been holding internal discussions for a similar initiative.
"My signing bonus was an NFT," Carter said. "This is also for business-to-business; you've got to start thinking about this as a company. If you are a company today, how are you going to entice users to see some of their data? "
In addition to today's virtual event, Carter and her team at Unstoppable plan to hold an in-person session later in the month during South by Southwest, the annual gathering in Austin, Texas, of film, interactive media and music aficionados. WOW3 will also host a platform for mentoring and hold various opportunities for interested parties to learn more about concepts such as decentralized finance and the gas fee, according to Carter.
"This space is moving so fast with so much new information," Carter said. "The more inclusive Web 3.0 is, the bigger the innovation and the bigger the power and the bigger that dream of ownership will become a reality. It's a fascinating new model. "
Watch the complete video interview below, and be sure to check out more of SiliconANGLE's and theCUBE's coverage of the Women of Web3 event. (* Disclosure: TheCUBE is a paid media partner for the Women of Web3 event. Neither Unstoppable Domains Inc., the sponsor for theCUBE's event coverage, nor other sponsors have editorial control over content on theCUBE or SiliconANGLE.)
Photo: SiliconANGLE
---
Show your support for our mission by joining our Cube Club and Cube Event Community of experts. Join the community that includes Amazon Web Services and Amazon.com CEO Andy Jassy, ​​Dell Technologies founder and CEO Michael Dell, Intel CEO Pat Gelsinger and many more luminaries and experts.