How to accelerate cloud innovations despite current market challenges: Live with AWS Mar. 2
4 min read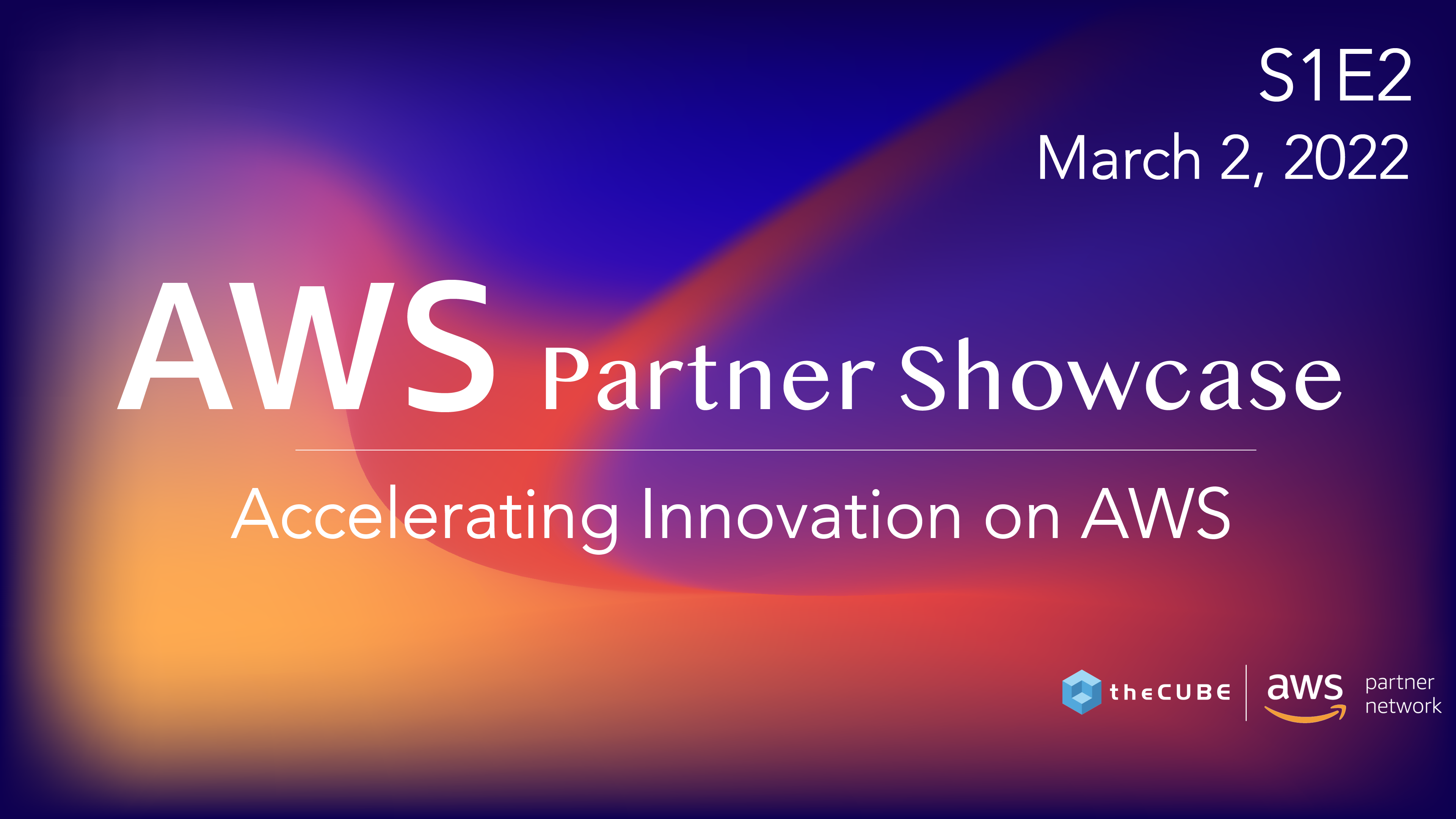 Software makers face numerous challenges in today's market: supply chain delays, a growing threat landscape, and an increasing demand for edge computing and remote work, to name just a few. As the tech sector faces permanent changes from the economic disruptions of COVID-19, theCUBE examines market indicators through firsthand insights and analysis.
In the upcoming AWS Partner ShowcasetheCUBE, SiliconANGLE's livestreaming studio, hears from Veeam, Cohesity and Splunk executives alongside other industry luminaries on the high task of modernizing business for a post-isolation economy. (* Disclosure below.)
The second episode in this Showcase series, "Speeding Innovation on AWS, " airs March 2 at 9 am PT in an exclusive CUBE broadcast.
The drive for business automation solutions
Through its ISV program, AWS integrates software solutions deeply within its ecosystem in an effort to meet pent-up demand during a pandemic-induced cloud adoption frenzy. This is where a cloud-first approach, ripe with automation, can help.
"Customers are really looking for business automation solutions, and it has increased rapidly in the last 20 months," Sabina Josephgeneral manager of technology partners at AWS, explained to theCUBE host Lisa Martin during the first AWS ISV event in December.
This sentiment was echoed by Danielle Greshock, director of partner SAs and worldwide ISV at AWS. "The pandemic has absolutely accelerated a lot of businesses' movement into the cloud, so companies that hadn't formerly thought about using cloud technologies are now doing that," she said.
The 'meat' of cloud adoption
Veeam Software, which will be a featured guest during the event, is a prime example of an AWS partner success story. At the end of 2020, Veeam announced its data loss protection solution Veeam Backup for AWS v3. And in a conversation with theCUBE back in December 2019, Rick Vanover, senior director of product strategy at Veeam, discussed the company's key partnership strategy with AWS, which continues to evolve.
"I like to say that partnership is in Veeam's DNA. We sell through the [AWS] channel, and we have the alliance relationships, "Vanover said. By going in software-only, I am actually completely convinced we're very well positioned in the market to come in with a solution that will work for literally everybody, no matter what their preferences, what brands of technology they use, what clouds they use. "
With access to co-selling support from AWS, reduced AWS Marketplace listing fees, and incentives for AWS sales teams, the computing giant claims thousands of companies as ISV participants. According to recent data, AWS is the favorite cloud services provider of SMBs, with a 53% adoption ratedemonstrating the scaling challenges Amazon faces as it continues to grow its Web Services offerings.
To this end, AWS remains a significant area of ​​investment for Amazon. Spending on chips indicates AWS 'long-term infrastructure goals, supporting a degree of software integration appealing to developers. By attracting the heart of the ecosystem, AWS hopes to cultivate an unparalleled ISV initiative, as indicated by Adam Selipsky, AWS chief executive officer.
Venture capitalist and early Amazon investor Matt McIlwain laid out the importance of the program for the cloud computing giant. "Areas of change for AWS and the industry will include an increasing focus on delivering whole solutions to all types of customers, building many more first-party applications and partnering better with third-party software and solutions providers," he said.
Adam Selipsky, AWS chief executive officer, agrees. In a recent interview with John Furrier and Dave Vellante for SiliconANGLE, he said"Our partner ecosystem system has been a fundamental plank of AWS strategy since day one, and it remains so."
Livestream of the "Speeding Innovation on AWS' event
The AWS Partner ShowcaseSpeeding Innovation on AWS " event will feature interviews to be broadcast on theCUBE. Register now to watch the event live. Plus, you can watch theCUBE interviews here on demand after the live event.
How to watch theCUBE interviews
We offer you various ways to watch AWS " ISV "event, including theCUBE's dedicated website and YouTube channel. You can also get all the coverage from this year's events on SiliconANGLE.
TheCUBE Insights podcast
SiliconANGLE also has podcasts available of archived interview sessions, available on iTunes, Stitcher and Spotifywhich you can enjoy while on the go.
Guests
During the AWS Partner ShowcaseSpeeding Innovation on AWS " event, theCUBE will talk with Poojan Kumar, co-founder and chief executive officer of Clumio; Douglas Ko, director of product marketing at Cohesity; Andy Langsam, senior vice president and general manager at Veeam Software; Morgan McLean, director of product management at Splunk; and Sabina Joseph, GM of technology partners at Amazon Web Services Inc.
(* Disclosure: This event is sponsored by participating companies in the AWS Partner ShowcaseSpeeding Innovation on AWS " event. Neither Amazon Web Services Inc. nor other sponsors have editorial control over content on theCUBE or SiliconANGLE.)
Image: SiliconANGLE
---
Show your support for our mission by joining our Cube Club and Cube Event Community of experts. Join the community that includes Amazon Web Services and Amazon.com CEO Andy Jassy, ​​Dell Technologies founder and CEO Michael Dell, Intel CEO Pat Gelsinger and many more luminaries and experts.