L'Oréal hops on Google Cloud to manage big-data complexity
3 min read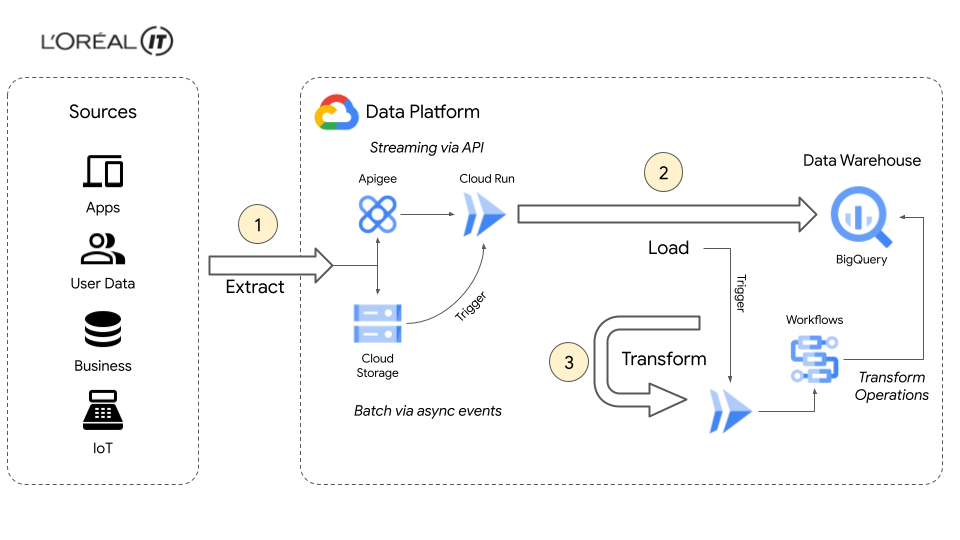 L'Oréal SA revealed today how it has invested heavily in Google Cloud's serverless and data tooling solutions to support the Beauty Tech Data Platform that underpins the French cosmetics giant's business.
In a blog post designed to promote Google Cloud's big-data capabilities, L'Oréal talked about how it has evolved into a "beauty tech" company that relies heavily on data and analytics to roll out new brands and products adapted to local markets.
L'Oréal's reliance on data is great for business, but it has also created quite a challenge, complicating its data warehouse infrastructure and causing all kinds of headaches with regards to its legal and compliance requirements. The company explained that its on-premises computing infrastructure footprint became so large that it had no choice but to move to the cloud.
When considering possible cloud infrastructure providers, L'Oréal drew up a list of several nonnegotiable requirements, including the principle of "No Ops," or the need for an elastic infrastructure that scales on demand, so its developers aren't forced to waste time managing servers.
Other requirements related to strict security, sustainability, end-to-end supervision, a single pane of glass dashboard to monitor and triage all of its operations, easy deployment and an event-driven architecture that delivers data in near real-time. It also required that data products be available "as a service" with extract, transform and load capabilities that allow it to implement data patterns to load as soon as the information reaches its data warehouse.
It might seem like an exhaustive list of requirements but L'Oréal said Google Cloud checked every box. So it wasted no time in expanding its Google Cloud footprint to support its Beauty Tech Platform.
L'Oréal explained that its platform incorporates data from two sources – direct via application programming interfaces, which easily adapts to its schema and is sent straight to Google BigQuery where it's analyzed, and also bulk data from integrations that undergoes event-driven transformation before analysis .
"Today, these transformations are performed in Cloud Run, which supports the high concurrency required to handle our data volumes, or directly in BigQuery with SQL," the company explained. "With the availability of Cloud Functions (2nd gen) we are excited to open the platform to more developers who can easily build new custom data integrations and transformations, becoming the glue code of the platform."
L'Oréal said BigQuery has proven to be a big deal because it has allowed the company to adopt Standard Structured Query Language as the universal language in its data warehouse, helping streamline queries and reporting. It said it can also load much of its original data into BigQuery using nondestructive transformations, meaning that information can later be reprocessed for additional use cases.
L'Oréal also makes use of BigQuery Omni, a new capability that makes it possible to analyze data from multiple applications hosted across various public cloud and on-premises environments.
"Without BigQuery Omni, it would've been impossible for our teams to natively cross-cloud analytics," L'Oreal explained. "Moreover, it eliminated the need for us to move sensitive data which is not only expensive because of local tax and subsea transport but also incredibly risky or prohibited sometimes because of local regulations."
The cosmetics firm said an additional benefit of using BigQuery and Google Cloud's Serverless compute services for API ingestion, bulk data loading and post-loading transformations is that it can keep its entire data platform within a "single boundary of trust" at a fraction of the cost it would incur doing this elsewhere.
L'Oréal concluded that Google Cloud fulfills every requirement of its Beauty Tech Data Platform, even helping it to achieve its sustainability goals by providing tools to measure and understand the environmental footprint of its cloud operations.
Image: L'Oréal
---
Show your support for our mission by joining our Cube Club and Cube Event Community of experts. Join the community that includes Amazon Web Services and Amazon.com CEO Andy Jassy, ​​Dell Technologies founder and CEO Michael Dell, Intel CEO Pat Gelsinger and many more luminaries and experts.