NFTs and blockchain take center stage at Unstoppable Domains series
4 min read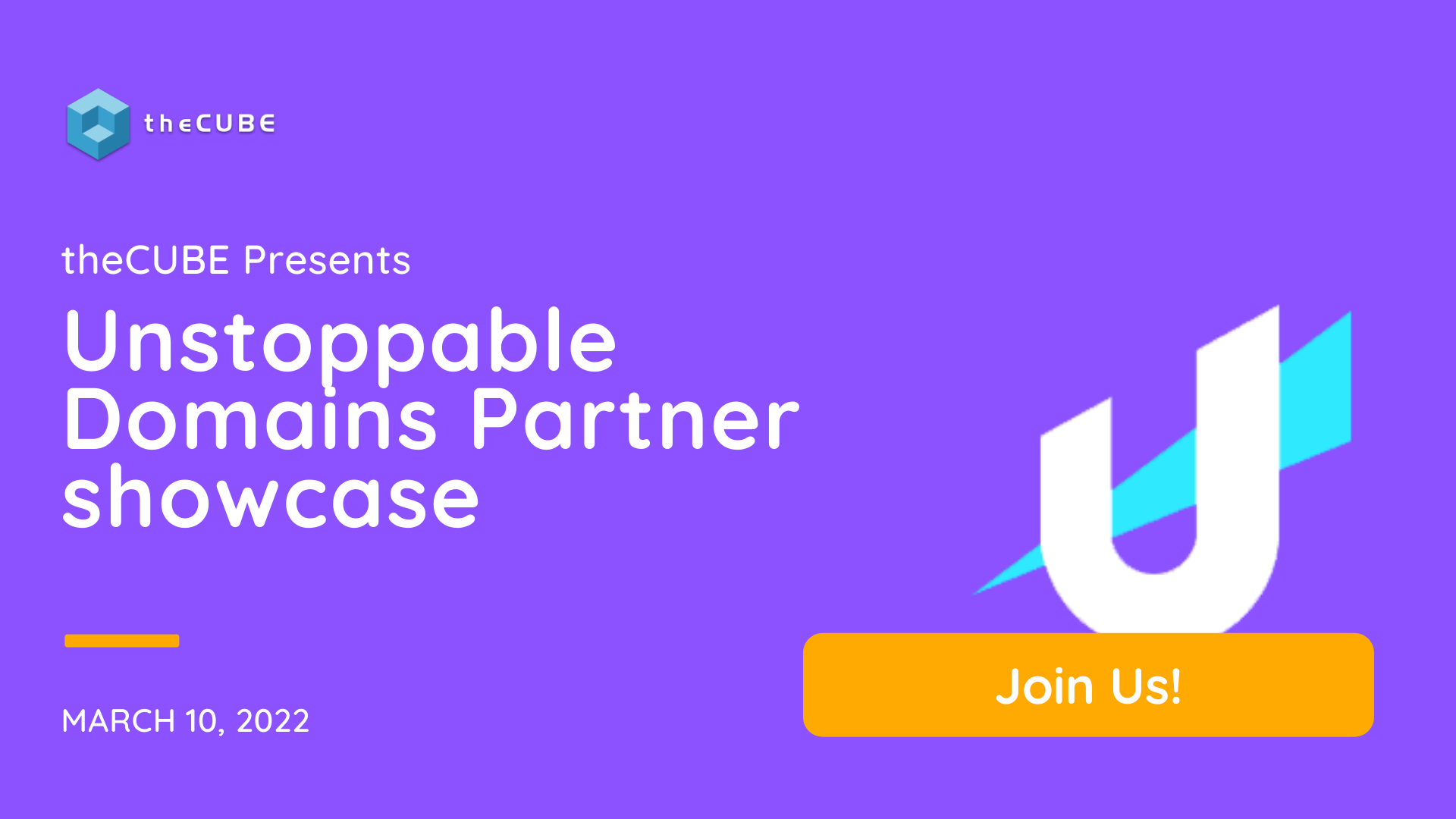 NFTs. Touted by the world's top brands, the era-defining trend for non-fungible tokens raked in $ 25 billion last year. One recently sold for a whopping $ 69 million.
NFTs are viewed by many as the future of ownership in the online world. While 2021 saw an explosion of NFTs in areas such as art, sports and fashion, companies such as Unstoppable Domains Inc. are building new businesses around applications of NFT and blockchain technology for emerging areas, including decentralized finance and digital identity.
TheCUBE, SiliconANGLE Media's livestreaming studio, and Unstoppable Domains will dive into the world of cryptocurrency, blockchain and NFTs in the "Unstoppable Domains Partner Showcase" beginning at 9 am PT on March 10.
Digital identity for Web3
Launched in 2018 to provide user-controlled digital identities on Web3, Unstoppable Domains' names are minted as NFTs that allow users to replace complicated cryptocurrency addresses with a human-readable designation. The goal is to provide a foundation for digital identity using Web3 technology, and allow users to carry a unique name across apps, games, wallets and the metaverse.
TheCUBE's "Unstoppable Domains Partner Showcase" event will include interviews with co-founder Bradley Kam; Senior Vice President and Channel Chief Sandy Carter; and representatives from Wall Street Bets, Parcel, Atlantis World, DeHive and Cook Finance. (* Disclosure below.)
Emergence of DeFi
Unstoppable Domains represents another element in the evolving saga of decentralized finance, or DeFi, emerging financial technology based on the blockchain. The concept of peer-to-peer finance – the foundation behind the launch of bitcoin and the blockchain in 2008 – can also be extended to digital identity where the user controls his or her own domain.
The company recently launched an NFT sign-on capability for blockchain platforms Ethereum and Polygon as a way to mark positions in DeFi or prove membership in various communities. NFTs can be verified using blockchain technology, and Unstoppable Domains is betting that non-fungible tokens are headed towards mainstream adoption.
There are already signs that NFTs' entry into the mainstream world is well underway. NFTs are now traded by investors around the globe, with sales of $ 25 billion last year, up from a measure of $ 94 million in 2020. Collectibles and utility tokens account for the vast majority of sales to date, but art, games and the metaverse itself are beginning to enter the ecosystem as well.
"Once you break the idea of ​​this is just a piece of art or this is a cryptocurrency, you get into a world where you can apply that NFT technology to a lot more things than I think most people think of today," said Nick Donarski. , cybersecurity expert, hacker, gamer, NFT expert and founder of ORE System, in a recent interview with SiliconANGLE.
A $ 63,000 lion
One recent addition to the management team at Unstoppable Domains became an active participant in the DeFi and NFT community immediately after joining the firm.
According to Unstoppable Domains' Sandy Carter, her sign-on bonus was delivered as an NFT. The former vice president of worldwide public sector partners and programs for Amazon Web Services Inc. used her bonus to purchase a Lazy Lion, a collection of unique NFTs hosted on the Ethereum blockchain.
The artistically drawn lions with algorithmically generated traits were created last year by four friends in Sidney, Australia, who were confined together during a pandemic-related lockdown.
The Lazy Lion NFT offering of 10,000 unique characters sold out in five hours for $ 1.5 million. Each Lion can be bought and sold as an investment, and one was recently purchased for $ 63,000.
"I now own that Lazy Lion, but the artist gets a potential percentage of that," Carter said during a recent interview in advance of the upcoming event on theCUBE. "I could name a store after that Lazy Lion because now it's mine. Myself and the artists are now teamed together; we're like a joint venture. "
Livestream of the 'Unstoppable Domains Partner Showcase' event
The "Unstoppable Domains Partner Showcase" event will feature interviews to be broadcast on theCUBE. Add this special event to your calendar to watch live. Plus, you can watch theCUBE interviews here on demand after the live event.
How to watch theCUBE interviews
We offer you various ways to watch the "Unstoppable Domains Partner Showcase" event, including theCUBE's dedicated website and YouTube channel. You can also get all the coverage from this year's events on SiliconANGLE.
TheCUBE Insights podcast
SiliconANGLE also has podcasts available of archived interview sessions, available on iTunes, Stitcher and Spotify, which you can enjoy while on the go.
Guests
During the "Unstoppable Domains Partner Showcase" event, theCUBE will talk with executive and expert guests from Unstoppable Domains, including Matt Gould, founder and chief executive officer; Bradley Kam, co-founder; Matt Mickiewicz, chief revenue officer; Charlie Brooks, business development; Sajjad Rehman, head of Europe; Nilkanth Iyer, head of Asia; Ren Besnard, vice president of marketing; and Michael Williams, product manager.
Also during the event, theCUBE will also speak with Noah Gaynor, co-founder and CEO of Parcel; CJ Hetherington, co-founder of Atlantis World; Jaime Rogozinski, founder of WallStreetBets and strategic advisor of WSBDApp; Michael So, partner and head of business development at Cook Finance; Mike Morhulets, CEO of DeHive; and Jeremiah Owyang, industry analyst and founding partner at Kaleido Insights.
(* Disclosure: TheCUBE is a paid media partner for the Unstoppable Domains Partner event. Neither Unstoppable Domains Inc., the sponsor for theCUBE's event coverage, nor other sponsors have editorial control over content on theCUBE or SiliconANGLE.)
Photo: SiliconANGLE
---
Show your support for our mission by joining our Cube Club and Cube Event Community of experts. Join the community that includes Amazon Web Services and Amazon.com CEO Andy Jassy, ​​Dell Technologies founder and CEO Michael Dell, Intel CEO Pat Gelsinger and many more luminaries and experts.