Rockset takes aim at real-time analytics for powerful operational intelligence
4 min read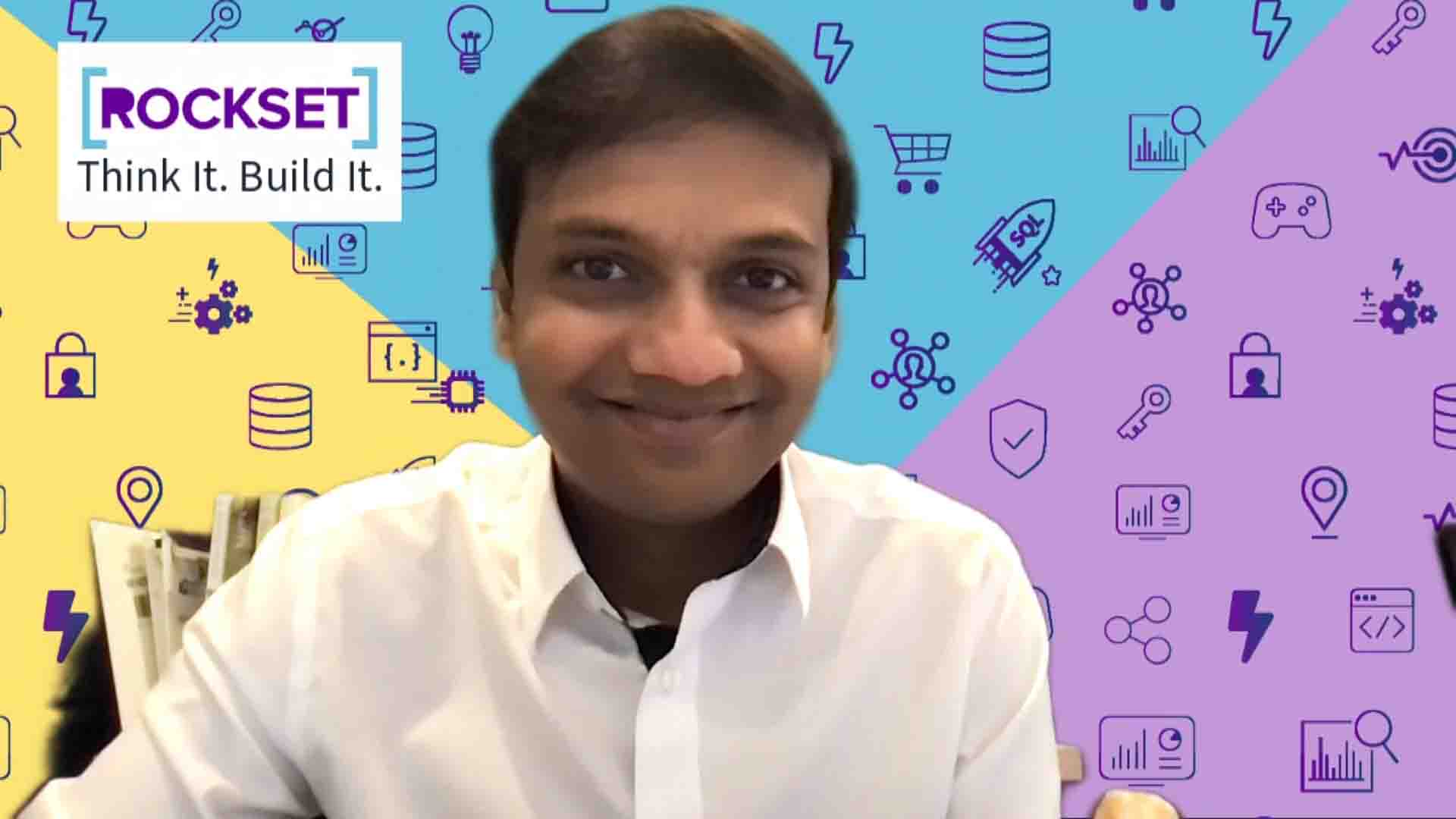 Analytics point to what's working in a business… and what isn't. While querying these datasets after a set timeframe is commonplace, doing it in real time could help organizations be more nimble and proactive in their operations.
"Rockset is the only one real-time analytics platform with built-in connectors, "said Venkat Venkataramani (pictured), co-founder and chief executive officer of Rockset Inc. "So this is why we have built-in connectors, where without writing a single line of code you can bring in data in real time from wherever you happen to be managing it today. "
Fast analytics on fresh data beats slow analytics on stale data, and given the competitive edge of staying ahead of this crucial process, small time savings could mean the difference between adjusting strategies too early or too late.
"You need to be able to interrogate your data in real time in an interactive fashion, " Venkataramani stated. "What real-time analytics gives you is the ability to answer questions about what's working and what's not. Building a data-driven culture isn't really going to come from just looking at static reports at the end of the week and the end of the quarter. "
Venkataramani spoke with theCUBE industry analyst John Furrier in advance of the AWS Startup Showcase: "Data as Code – The Future of Enterprise Data and Analytics" event, an exclusive broadcast on theCUBE, SiliconANGLE Media's livestreaming studio. They discussed real-time analytics leveraging data as code and market trends around the technology. (* Disclosure below.)
The latency part of the equation
In most cases, the review of data gleaned through analytics affects its viability. So, the definition of "real time" is important, according to Venkataramani.
"When we think about freshness, we think it's about one to two seconds. And so everything we do at Rockset, we only call it real time if it can be within one to two seconds, because that's the present. That's what's happening now. If it's five minutes ago… it's already past tense, "he said.
In addition, Rockset's platform also boasts real-time indexing technology that allows organizations the speed and flexibility for data to be organized as it flows inward, according to Venkataramani. There's also a distributed SQL engine built atop it that allows real-time querying and sub-second response times.
The latency equation is a product of the freshness of data and the speed of subsequent analytics. A combination of both of these factors is essential to unlocking real-time insights as opposed to squeezing improved turnaround times out of a batch approach, Venkataramani pointed out.
The importance of observability to business transformation today
As organizations scale, the effects of seemingly little glitches often become magnified. Simply put, failures that aren't promptly identified could have cascading effects on operations, customer satisfaction and profit bottom lines.
Positioning itself as the modern data stack for real-time analytics, Rockset's solution allows organizations to run their models repeatedly over extended periods of time to find anomalies or better predict future performance.
"Business observability is all about really knowing what's happening in your business and keeping tabs on it all in real time as you go about your business, "Venkataramani explained. "This is what we also call operational intelligence. Businesses are really demanding operational intelligence a lot more than just the traditional. "
As a practice, business observability has come mainstream as a result, in large part, to data aggregation technologies like Apache Kafka and Confluent. There's also the current cloud saturation, where business applications are now interconnected, each relying on cloud storage and computer resources, according to Venkataramani.
"When all of those data systems are all interconnected, you can now have APIs that make data flow from one system to another, all it happening in real-time, "he said. "And that also unlocks a lot more potential for, again, getting better operational intelligence for your enterprise. "
Lots of data points are experiencing a confluence both within organizations and between them. Thus, companies like Rockset are providing value with infrastructures built into other cloud solutions that allow for increased, more precise operational intelligence.
"I think the world is going real time, and I" will be very, very happy to be part of this movement towards operational intelligence, "Venkataramani said. "For every classic BI use case, I think there are 10 times more operational intelligence use cases. "
Here's the complete video interview, part of SiliconANGLE's and theCUBE's coverage of the AWS Startup Showcase: "Data as Code – The Future of Enterprise Data and Analytics" event.

(* Disclosure: TheCUBE is a paid media partner for the AWS Startup Showcase: "Data as Code – The Future of Enterprise Data and Analytics" event. Neither Rockset Inc., the sponsor for theCUBE's event coverage, nor other sponsors have editorial control over content on theCUBE or SiliconANGLE.)
Photo: SiliconANGLE
---
Show your support for our mission by joining our Cube Club and Cube Event Community of experts. Join the community that includes Amazon Web Services and Amazon.com CEO Andy Jassy, ​​Dell Technologies founder and CEO Michael Dell, Intel CEO Pat Gelsinger and many more luminaries and experts.