Transforming networking infrastructure to meet the speed of cloud, Mar. 16 event
5 min read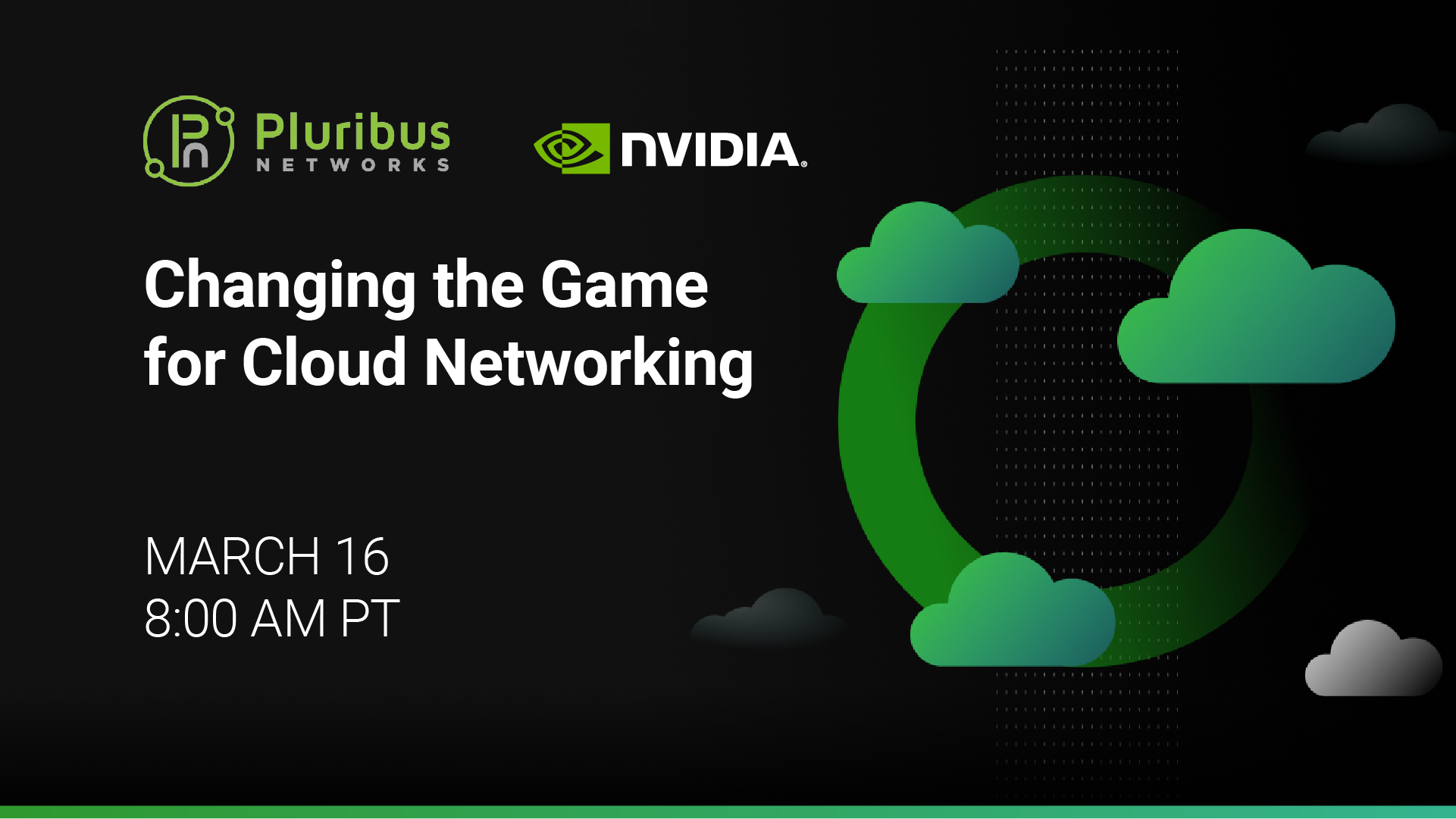 Many assumptions from the early days of cloud computing have been proved false, including the belief that the rise of cloud computing will mean the demise of on-premises data centers.
According to Pluribus Networks Inc.'s "State of Data Center Networking 2021" report, 56% of organizations are actively adding new on-preme data centers, with only 12.5% ​​consolidating their data center footprint.
"The conventional wisdom that private data centers are rapidly consolidating is not only wrong for most enterprises, the trend is in the opposite direction," according to Jay Gill, senior director of marketing at Pluribus, in an analysis of the study.
On March 16, cloud network solution provider Pluribus presents "Changing the Game for Cloud Networking," an hour-long event airing live on theCUBE, starting at 11 am EDT. The event will explore new approaches to cloud networking, with Pluribus and its partner Nvidia Corp. revealing the latest innovations to come from their collaboration. (* Disclosure below.)
The continued relevance of on-prem data centers in a cloud-based world
The survey's finding that enterprise-level companies continue to invest in on-prem data centers could be a surprise, especially since the media (including theCUBE) regularly reports on how the pandemic has forced companies to speed their cloud transformation journey in order to remain relevant in the digital economy.
Rather than data centers disappearing, however, it is the definition of cloud that has expanded. Private on-prem data centers have become agile and taken on many qualities previously restricted to the cloud. And companies have adopted cloud strategies that embrace public clouds, private clouds housed in on-prem data centers, and edge devices. There is no one-size-fits-all for these multicloud, hybrid approaches, which are sometimes referred to as superclouds. Each is designed to meet a company's unique and discrete use case.
The weak link in these complex, dispersed cloud environments is often the network. Bottlenecks slow the pipeline, and misconfigurations are the number one cause of security breaches. Networking has always lagged behind other technology sectors in terms of innovation speed; but as hybrid cloud strategies that include multiple public cloud providers become pervasive at the enterprise level, it is essential for networking technology to catch up to the containerized, microservices world.
"[Network] has to have cloud-native attributes, it has to be intelligently automated, it needs to be elastically scalable, and it needs to be secure, "said Brad Casemore, vice president of data center and multicloud networking at market intelligence and advisory firm IDC, during the NetEvents Inter @ ctive conference in 2021.
The Pluribus and Nvidia partnership is addressing this exact problem, which will be covered extensively during the "Changing the Game for Cloud Networking" March 16 event. Pluribus, Nvidia and Enterprise Strategy Group guests will join the CUBE's John Furrier and Dave Vellante to discuss recent cloud network innovations that will enable enterprise and service providers to "move at the speed of the cloud."
Virtualized network overlays are the future of networking
Achieving cloud speed is easy for hyperscalers, who have the resources to build and maintain modern network infrastructure. But for the rest of the world, keeping data flowing freely and fast between cloud, on-prem, and consumer devices on the edge is a constant battle.
Pluribus has already addressed this issue by building a virtualized, open, programmable network fabric that meets the demands of modern data management. The company's product portfolio includes the Pluribus Adaptive Cloud Fabric, which is powered by its open Netvisor ONE white box operating system.
A notable use case for the Adaptive Cloud Fabric comes from the Rural Cloud Initiative, which is spearheaded by Trilogy Networks Inc. The RCI aims to join hundreds of network operators to build a unified edge cloud platform to provide connectivity to rural America. This will enable farmers in remote locations to harness technological advances and modernize their operations.
Creating this network using a traditional approach would require complex box-by-box configurations to deliver all network services, according to Pluribus' chief marketing officer, Mike Capuano, in an article about the project. This is an impossible task for a highly distributed environment that requires linking different underlying network infrastructures connecting thousands of sites from hundreds of service providers.
Instead, Trilogy partnered with Pluribus and is using the company's Adaptive Cloud Fabric virtualized overlay solution to simplify the task.
"Trilogy now has the ability to stretch a fabric across a variety of operator underlays and ends up with an abstracted, virtualized and homogenous networking construct that provides tremendous benefits to their business model," Capuano stated.
These benefits are being appreciated by the enterprise as well. The "State of Data Center Networking 2021" survey found that in the next two years over 80% of enterprises plan to deploy virtualized network overlays to connect multiple data centers.
"Virtualized network overlays enable the network operations team to' move at the speed of the cloud 'and stretching overlays across data centers enables the types of high availability, multi-site architects that private clouds need," Capuano said.
Livestream of Pluribus Networks 'Changing the Game for Cloud Networking' event
Pluribus Networks' 'Changing the Game for Cloud Networking' event will feature interviews to be broadcast on theCUBE. Register now to watch the event live. Plus, you can watch theCUBE interviews here on demand after the live event.
How to watch theCUBE interviews
We offer you various ways to watch Pluribus Networks " Changing the Game for Cloud Networking " event, including theCUBE's dedicated website and YouTube channel. You can also get all the coverage from this year's events on SiliconANGLE.
TheCUBE Insights podcast
SiliconANGLE also has podcasts available of archived interview sessions, available on iTunes, Stitcher and Spotify, which you can enjoy while on the go.
Guests
During the "Changing the Game for Cloud Networking" event, theCUBE will talk with Pluribus Networks' Mike Capuano, chief marketing officer, and Alessandro Barbieri, vice president of product management, as well as Nvidia's Ami Badani, VP of marketing and developer ecosystem strategy , and Pete Lumbis, director of technical marketing.
Also during the event, theCUBE will speak with Bob Laliberte, senior analyst and practice director at Enterprise Strategy Group.
* * Disclosure: TheCUBE is a paid media partner for Pluribus Networks' 'Changing the Game for Cloud Networking' event. Neither Pluribus Networks Inc., the sponsor for theCUBE's event coverage, nor other sponsors have editorial control over content on theCUBE or SiliconANGLE. )
Image: Pluribus
---
Show your support for our mission by joining our Cube Club and Cube Event Community of experts. Join the community that includes Amazon Web Services and Amazon.com CEO Andy Jassy, ​​Dell Technologies founder and CEO Michael Dell, Intel CEO Pat Gelsinger and many more luminaries and experts.