Ukrainian tech leaders defiant in the face of Russian onslaught
5 min read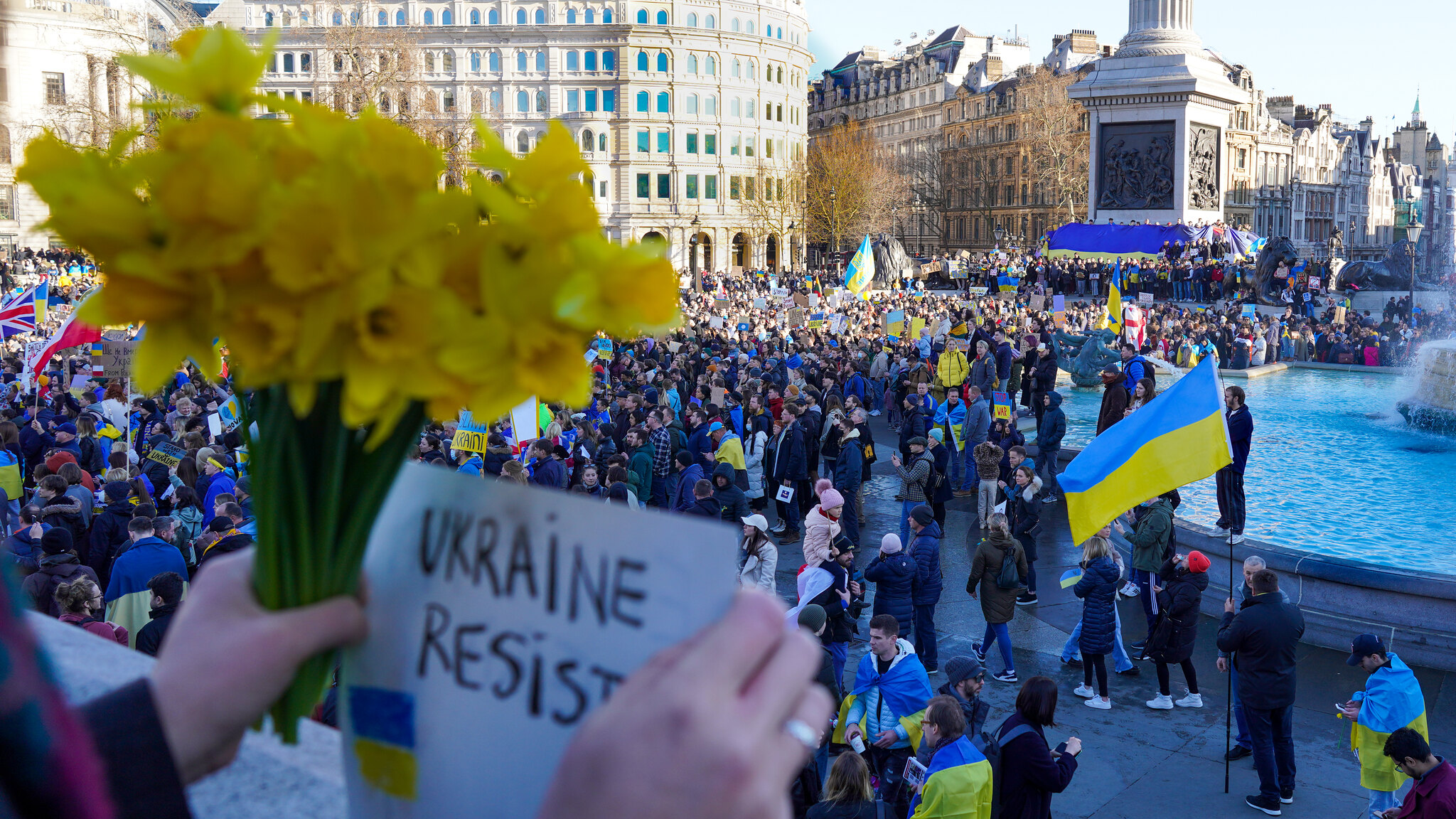 A few employees of VRnetio OU, a developer of virtual software for the real estate industry, spent last weekend filling empty bottles with gasoline for use as Molotov cocktails.
"It would demoralize our army if business people started to run away," said Chief Executive Artem Batogovsky. "We need to be strong, be together and show that we support them."
Batogovsky was speaking to a reporter over a Zoom call at 1 am local time on Tuesday as bombs exploded in the distance. His Kyiv, Ukraine-based operation was still up and running at the time, although "real estate [sales] in Kyiv have stopped because no one is looking, "he said. "All real estate companies here are bunkered right now."
Facing a Russian onslaught that is the biggest invasion of a sovereign European country since World War II, Ukrainian business leaders are doing their best to keep morale up in the face of the relentless pounding of its biggest cities. "We are terrified, but everyone is doing their best to protect the homeland," said Nataly Lytvyn, public relations head at BetterMe Ltd., a Kyiv-based maker of mobile wellness apps.
Tech disrupted
Ukraine is one of the leading technology centers in Europe. The business directory Crunchbase lists more than 3,000 companies based in Kyiv alone, most of them in the technology sphere. SiliconANGLE contacted executives at several of them this week to see how their businesses and people were being affected by the crisis.
What we found was anger, fierce patriotism and stoic determination to outlast the invaders despite Russia's vastly superior numbers and firepower. "This is our 25th war with Russia," Andrei Drogobytsky, CEO of Seadora LLC, an online seller of seafood, said in a Zoom interview this morning. "The fear has gone. Some people thought of Russia as our brother country. Now everyone knows they are fucking assholes. "
As of the middle of this week, most executives who were contacted said they were trying to maintain some business semblance as usual while casting a wary eye on news reports as a 40-mile-long column of Russian tanks and artillery formed outside of Kyiv .
"At the moment everyone is moving to a place where they feel safe enough," Batogovsky said. "We're now trying to start working because our economy is at near-crash." Working, he explained, "helps people to focus on something useful. Otherwise, they are looking at the news. "
But staying focused was difficult in light of intensifying bombardments. "The actual activity of the company was not affected, but the team is in danger now," Lytvyn said. "We can't work as usual. Bombs are targeted into civilian houses and several times a day we hear alarm sirens. "
All expressed concern about the welfare of their employees. "They should be safe and take care of their families," said Seadora's Drogobytsky. "That's their main task at the moment."
People first
Sisense Inc., a US-based maker of analytics software, has about 150 employees in Ukraine. Last month it put emergency protocols in place, establishing two safe zones where employees and their families can shelter, with the company paying for all transportation and accommodations. It also advanced salary payments to Ukrainian employees in case of disruptions to the banking system.
So far, it's business as usual. "At the beginning, very few found it necessary [to move to the safe zones] but now many are moving there, "said CEO Amir Orad. "We have additional teams in Europe and the US trained and ready to support our clients and, if needed, covering for their peers in Ukraine."
Gameloft Corp., a Paris-based game publisher, donated € 600,000 to its employees in addition to advancing payments on the March salaries. "For those who want to leave the country, we are also supporting them with help for housing and legal counseling," the company said in a LinkedIn post.
Technology leaders who were contacted are also contributing to the resistance effort in ways that range from practical to clever. Seadora, which had to suspend operations last week because of disruptions to its delivery network, donated its entire inventory of seafood – roughly two tons – to the Ukrainian Army, Drogobytsky said.
BetterMe donated $ 40,000 to the Savelife Foundation, which supports the Ukrainian army. It's also providing free access to the BetterMe mental health app for Ukrainians and has asked Apple Inc. and Google LLC to reduce commissions for Ukrainian publishers in their app stores. "We have completely stopped serving Russian users and encouraged them to support Ukraine through push notifications in our applications," said CEO Victoria Repa.
App-level resistance
Reface, the business name of Neocortext Inc., came up with creative uses for its content creation app. "We encourage everyone to swap themselves into [Ukrainian] President Zelenskyy and animate photos with the Ukrainian anthem, "Public Relations Manager Daria Kravets wrote in an email. "We've added in-app messages and banners on how to support our country and donate to The Armed Forces of Ukraine and every video made with our app has the watermark #standwithukraine and the Ukrainian flag." The company said it also sent 9 million notifications documenting the situation inside Ukraine to its users, 2 million of whom are in Russia.
All the business leaders who were interviewed expressed confidence that the Ukrainian Army would prevail, noting media reports that Russia had expected the invasion last no more than a couple of days. "The nation is 100% mobilized," Drogobytsky said. "There is no panic. Everybody has accepted the reality and is aligned with Ukraine. We will win. "
Russian President Vladimir Puttin "has gone crazy and lives in his fictional world," BetterMe's Lytvyn wrote. "I believe in the bright future of Ukraine and the terrible isolation of Russia."
VRNet's Batogovsky urged American investors to speak with their dollars. "This is a good time to invest in our startups because we will go to European markets to do what we've done here," he said. "We are super-motivated."
Photo of pro-Ukrainian protest in London's Trafalgar Square on Feb. 27: Flickr CC
---
Show your support for our mission by joining our Cube Club and Cube Event Community of experts. Join the community that includes Amazon Web Services and Amazon.com CEO Andy Jassy, ​​Dell Technologies founder and CEO Michael Dell, Intel CEO Pat Gelsinger and many more luminaries and experts.